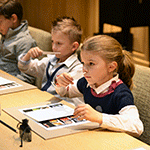 FROM OLFACTORY DISCOVERY...
The perfume workshop allows children to discover classic raw materials found in perfumes such as raspberry, mint, the "comfort blanket" note or vanilla. Our Perfume Expert will initiate children to the Perfume Art. Your little apprentice perfume makers will know all about head notes, heart notes and base notes. A wonderful window into the world of scents and flavours.



...TO THE CREATION OF A PERFUME
After theory comes practice! The Guerlain Apprentice Perfume Makers create their own fragrance outline with ingredients of their choosing. After a well-deserved snack break, they will, as accomplished artists, name their creations and outline their perfume bottles.


WINK OF GREETS : You will see your child become more aware of their olfactory environment, develop a taste for perfume, and even acquire skill, being able to isolate each ingredient as a true perfume maker!
DETAILS : Duration of program 2 hours 30 - Minimum age 7 years old - Sweetened snack included - This program is available on demand and subject to availability 
- This experience is valid for 12 months after the purchase date.